Skip to Content
Derm Diaries: 'I'm A Dermatologist With Hyperpigmentation And Maskne. Here's How I Treat It.'
She makes her own skincare cocktail to fight dark spots.
Dermatologists prescribe products to their patients all day long, but have you ever wondered which ones they personally use? Welcome to Derm Diaries, a new series where dermatologists share their skin woes—and solutions—so you can steal secrets from their skincare routines.
Long before she went to medical school, Alicia Barba, MD, a board-certified dermatologist in Miami, FL, at Barba Dermatology, was familiar with the inside of a derm's office.
"I grew up exposed to dermatology by way of my mother's appointments with her derm for vitiligo, and my own visits for acne," she explains. "I was always fascinated with how topical medications interacted with the skin to make people better."
It wasn't until college that Dr. Barba decided to pursue dermatology, and she immediately switched majors from Spanish literature to biology. "It had never occurred to me that I could be a physician," she says. "I did not have physicians in my family, and I was the first in my family to attend college."
Though she knows plenty of beauty secrets, Dr. Barba still has her own skincare struggles.
"Like many Latinas, I am prone to hyperpigmentation," she says. "I have been dealing with hyperpigmentation for 13 years and four months. Like many women, it started after taking birth control. My heart dropped when I saw the brown symmetrical patches across my cheeks and forehead. I knew that my relationship with the outdoors would be different from that moment. Melasma is chronic and sunscreen is never a complete block. It is a constant tug of war."
Dr. Barba's daily skincare routine is all about keeping her hyperpigmentation in check, and she avoids the sun as much as possible. Since Hispanic people are more likely to have hyperpigmentation, she helps many of her patients deal with it.
"I know for a fact that my success is built around my Latinx patients," Dr. Barba says, who is Mexican American and originally hails from California. "Many seek me out because I am well trained and speak their language. Speaking Spanish during a consultation to a native Spanish speaker makes a huge impact on being able to connect with my patients, especially if they don't speak English, which can be common in Miami given that many patients come here from abroad to receive medical care or may have recently arrived from a Spanish-speaking country. I love taking care of my Spanish-speaking patients in Spanish. Oftentimes I speak Spanish to them even though they speak English. It is a habit."
But you don't have to speak Spanish to understand Dr. Barba's personal skincare philosophy: "Maximal exfoliation, maximal hydration, no irritation," she says. "This is always my goal. The advancement in topical active ingredients and the ability to layer them makes a huge difference in the appearance of the skin. Skincare ingredients have come a long way."
See how that plays out her in her own skincare regimen.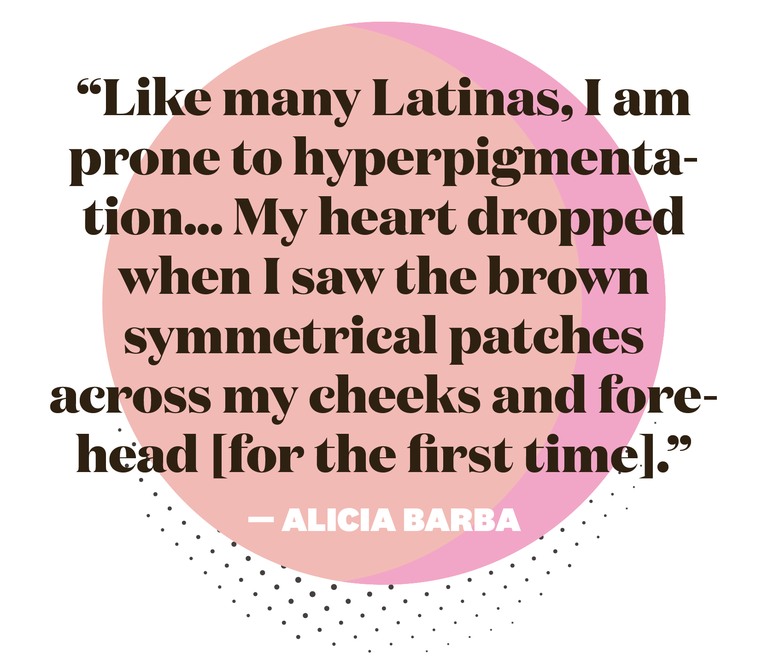 Her morning routine starts in the shower.
Dr. Barba always makes sure to have the Dove Beauty Bar in her shower. (She works with the brand.) "I love it for several reasons," Dr. Barba says. "It gently cleanses without drying and is ideal for my skin, which has been thoroughly cleansed and 'fed' the night before with various active ingredients. I also love incorporating the Dove Soothing Care Body Wash in my showering routine. It's made with calendula-infused oils and features a beautiful herbal scent. It's formulated with Moisture Renew Blend which helps hydrate and replenish skin and produce the ceramides it needs."
To seal in the moisture, she then lathers on Bioderma Atoderm Intensive Balm. Finally, for an extra glow on her legs, she uses Nuxe Multi-purpose Dry Oil. "We show legs all year round in Miami," Dr. Barba says.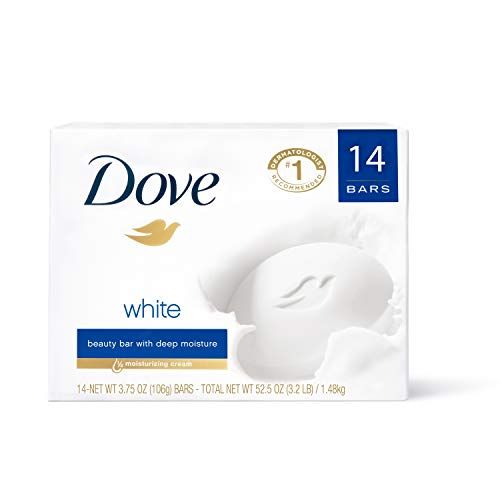 Dove Beauty Bar
She creates her own custom skincare.
Dr. Barba isn't afraid to literally mix things up. In the mornings, to keep her hyperpigmentation in check, she makes an antioxidant cocktail by combining SkinCeuticals CE Ferulic and SkinCeuticals Phloretin CF.
"I like the moisturizing aspects of vitamin E in the CE Ferulic but using it alone is too moisturizing for my combination skin, so I add a bit into my Phloretin CF," she explains.
She also custom blends her own sunscreen in the office. "I use an SPF of 50+ and Dermablend Smooth Liquid Camo Hydrating Foundation, and a dab of Dermablend Glow Creator Highlighter Makeup. It is the perfect tinted sunscreen that matches my skin tone. As a concealer, I use Dermablend Quick Fix Concealer."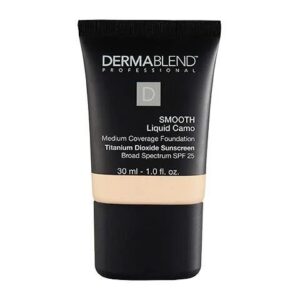 Dermablend Smooth Liquid Camo Foundation
She successfully battles maskne.
Derms are just like us: "I have been battling major maskne and sensitivity for the past year," Dr. Barba says.
She pops a pill to fight it, specifically 40 mg of Isotretinoin weekly (a.k.a. Accutane—by prescription only). "It is a magic pill for me. It keeps my maskne clear and pores tight. It is used daily for severe acne. I find taking one pill on Sunday night has been a lifesaver. It must be done under doctor supervision and only taken if you are on birth control and not trying to become pregnant."
Her lips have also taken a beating by rubbing on masks, so she keeps her pucker hydrated with SkinCeuticals Antioxidant Lip Repair.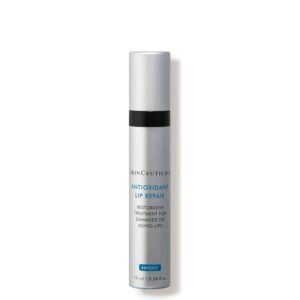 SkinCeuticals Antioxidant Lip Repair (0.34 fl. oz.)
She knows to cleanse carefully is key.
Dr. Barba takes off all her makeup with Avene Eau Thermale Gentle Eye Makeup Remover, followed by washing her face.
"Avene Cleanance Hydra Soothing Cleansing Cream cleanses my sensitive skin without leaving it dry. It is made for skin that is sensitized by acne treatments or retinols (which I use nightly). What I like most about this cleanser is that it doesn't further exfoliate."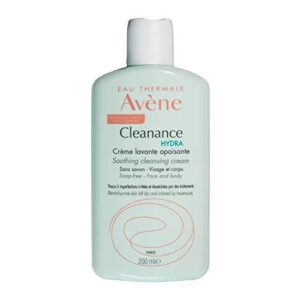 Eau Thermale Avene Cleanance HYDRA Soothing Cleansing Cream,
Adjunctive Care for Drying Acne Treatment 6.7 Oz
She layers her skincare.
"I love layering products to achieve a maximal glow," Dr. Barba says.
In the evening, that starts with her own Teoxane RHA Micellar Solution, an alcohol-free hyaluronic acid-based toner with rose water. "It smells delicious and gently hydrates my combination skin to prepare it for the actives that treat my maskne and pigmentation," she says.
Next, she alternates between two products, starting with Skinceuticals Glycolic 10 Renew Overnight. "I love this glycolic acid product that exfoliates but actually feels hydrating. Oftentimes I mix in a little Isdin Melatonik Recovery Night Serum to cut the strength down a bit as I tend to be sensitive."
Or, she'll use the Skinceuticals Custom Dose Serum with retinol and azelaic acid. "Skinceuticals formulated this specifically for me for me as an anti-aging treatment that at the same time can treat pigmentation. It is gentle enough for me to alternate with their Glycolic 10."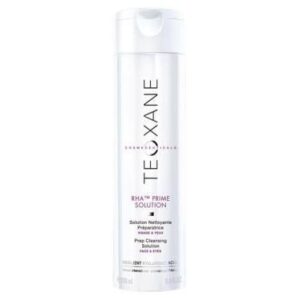 TEOXANE RHA Prime Solution Prep Cleansing Solution
She isn't afraid to experiment with unusual ingredients.
Dr. Barba completes her p.m. routine with the Biopelle Tensage Stem Cell Eye Cream with retinol and snails egg extract. "I have been to the snail farm in Spain to learn firsthand of the technology behind snail egg extract," she says. "I like this for treating the delicate skin under my eyes, particularly my crow's feet."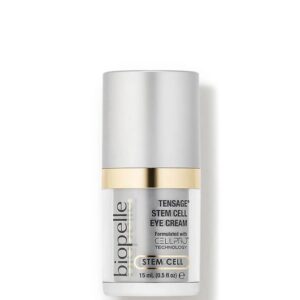 Biopelle Stem Cell Cream Moisturizer
She doesn't overlook this often forgotten spot.
"Hands! I use all of the above products and bring them down to my neck, chest, and hands. Always!"